https://www.mrmagicshows.com/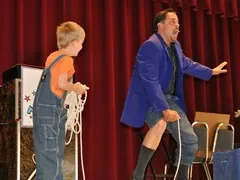 Mr. Magic Magical Wonders Show includes animals, music, comedy, numerous magic tricks with lots of participation by attendees. For over an hour of fun, laughter, and magical mystery, Mr. Magic's magic show is guaranteed to be one of the best magic shows Maine has to offer. It is sure to be a very special day that you AND your child will remember for the rest of his/her life.
A LITTLE MORE INFO ABOUT DENNIS

Dennis Labbe has been performing his exciting and very unique style of magic throughout New England for over 22 years. He has performed for golf clubs, campgrounds, fairs, festivals, theater, corporate events, and colleges. His Magical Wonders as he calls them is a unique compilation of magic, mind reading, illusions, and comedy which makes him stand out from the rest.
GUARANTEED TO ENTERTAIN!
Dennis provides the answer to your entertainment needs with powerful and professional magical performances. He creates unforgettable experiences that will turn your event into an exciting success.
Dennis' brand of magic comes in all sizes. He performs close-up strolling magic right under your nose. He also does nightclub-size shows for corporations and full-blown illusion shows for theaters. Whatever size of the audience he's performing for, the feeling is intimate and casual.
Mr. Magic.... Dennis Labbe
One show ONLY
11:00 AM
Sunday, July 9, 2023